Christmas for the Preborn ...
... began in 1994 with a short ceremony held at Courthouse Square in downtown Dayton, Ohio. It was designed to create awareness of the loss of life of defenseless, innocent babies at a time of year that has so much to do with babies and young children. Also in line with the season, it provides an opportunity for the celebration of life through giving – in the form of diapers, which are distributed to local women's support centers.

The programs have included prayers, music, remarks by pro-life leaders, and the lighting of a small Christmas tree that remained lit at Courthouse Square through the Christmas season with a small plaque to remind passers-by of the tragic loss of life through elective abortion.

In 2003, the program was moved to the front of the Women's Med Center abortion mill in Kettering, where it serves as a reminder of the sanctity of human life, and continues to benefit local women's support centers through material assistance.
---
Through the years
we've been blessed
by the participation
of many children
who have made
decorations
that have adorned
our Christmas tree
at Courthouse Square.
---
School choir groups have contributed
their time and talent to past programs.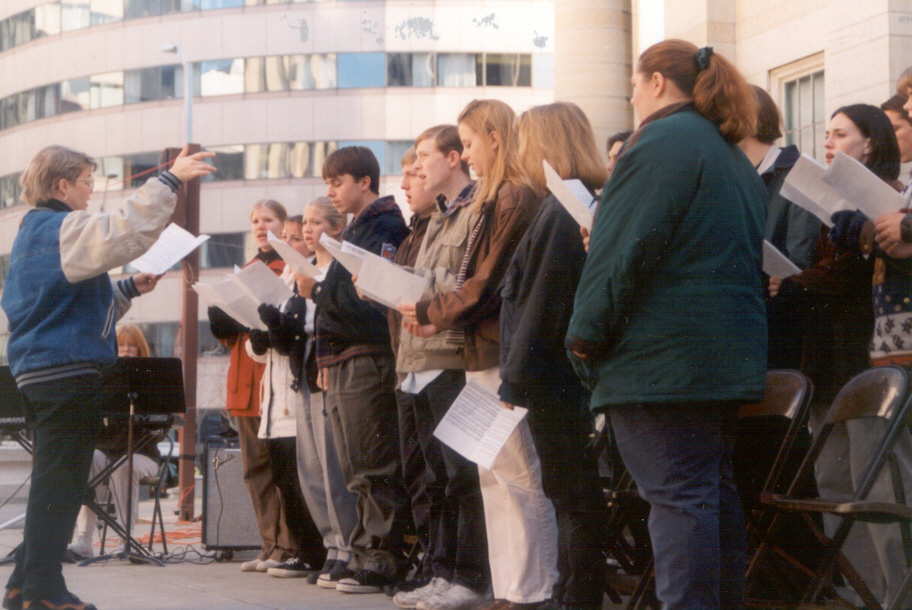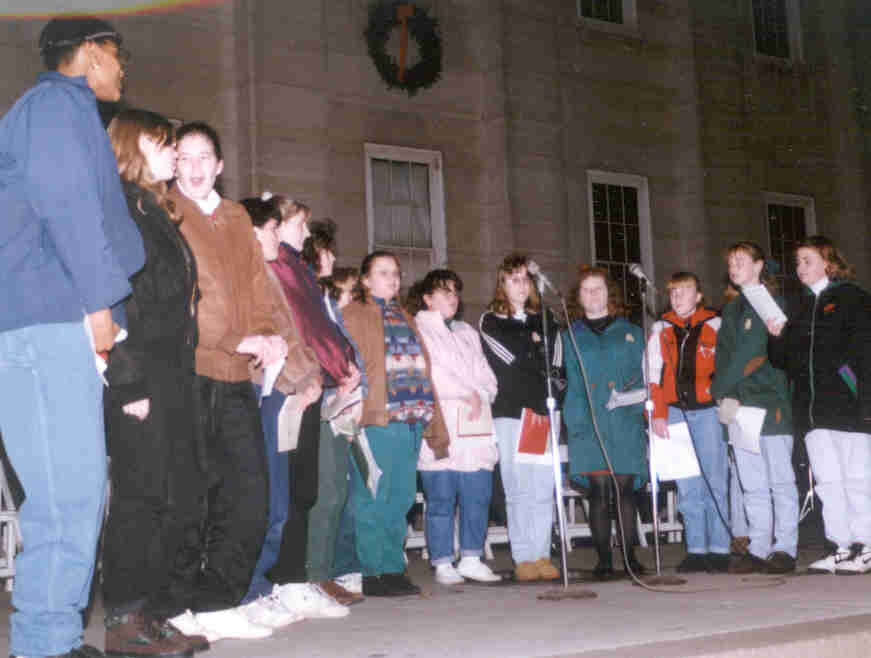 ---
Gifted local musicians, as well as pastors and lay leaders have
volunteered to help out with songs, prayers, and presentations.
---
From a recent Christmas for the Preborn event at the Kettering abortion mill:
| | |
| --- | --- |
| | |
| Positive signs greet abortion-minded mothers | Christmas for the Preborn Choir |
Message of hope and joy delivered in song to those entering the abortion mill
Young people take turns in a memorable reading of the Christmas story from the Book of Luke

Thought-provoking messages of the season for those with appointments at the abortion mill:
"Unto Us a Child is Born" – "Joy to the World"
A double meaning is given to the words of a familiar carol:
"Be near me, Lord Jesus, I ask Thee to stay
"Close by me forever, and love me, I pray;
"Bless all the dear children in Thy tender care,
"And fit us for Heaven to live with Thee there."
---